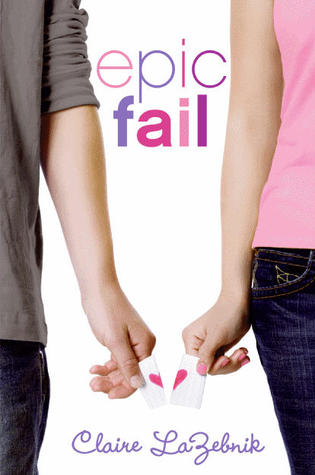 Epic Fail by Claire LaZebnik
Format: E-book
Pacing: Fast-pace
Pages: 161 pages
Average Goodreads Rating: 3.75
My rating:
2 of 5 stars
BLURB:
At Coral Tree Prep in Los Angeles, who your parents are can make or break you. Case in point:

- As the son of Hollywood royalty, Derek Edwards is pretty much prince of the school--not that he deigns to acknowledge many of his loyal subjects.
- As the daughter of the new principal, Elise Benton isn't exactly on everyone's must-sit-next-to-at-lunch list.

When Elise's beautiful sister catches the eye of the prince's best friend, Elise gets to spend a lot of time with Derek, making her the envy of every girl on campus. Except she refuses to fall for any of his rare smiles and instead warms up to his enemy, the surprisingly charming social outcast Webster Grant. But in this hilarious tale of fitting in and flirting, not all snubs are undeserved, not all celebrity brats are bratty, and pride and prejudice can get in the way of true love for only so long.
~From Goodreads~
MY THOUGHTS
This review is going to be so short so read my thoughts at your own risk. :)
AHMMM.. SORRY
I don't mean to be mean but the title speaks for itself. I don't even understand why it's entitled that way. Epic Fail is a 161 page fast pace retelling of Jane Austen's Pride and Prejudice. Well, most bookworms already know Pride and Prejudice. You just have to switch it to a high-school-plus-hollywood-drama and there you have EPIC FAIL. I'm not totally saying that it's bad because it's not. I actually enjoyed some humorous and fun parts but it's not enough for me. There's something missing in there. It's more like a cliffhanging story. So there, I think retellings should be leveled up and not just stick to what the story is based on. Maybe an additional twist will make it better.
View all my reviews