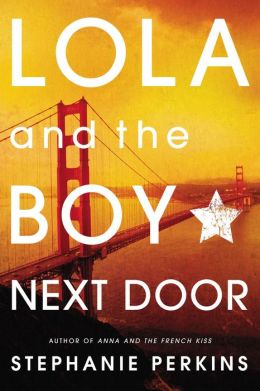 Lola and the Boy Next Door by Stephanie Perkins
My rating: 4 of 5 stars
Synopsis:
Budding designer Lola Nolan doesn't believe in fashion...she believes in costume. The more expressive the outfit--more sparkly, more fun, more wild--the better. But even though Lola's style is outrageous, she's a devoted daughter and friend with some big plans for the future. And everything is pretty perfect (right down to her hot rocker boyfriend) until the dreaded Bell twins, Calliope and Cricket, return to the neighborhood.
When Cricket--a gifted inventor--steps out from his twin sister's shadow and back into Lola's life, she must finally reconcile a lifetime of feelings for the boy next door.
~~From Goodreads~~
My Thoughts:
Everything about this book makes me want to turn back time and be that same age as Lola. Fluttering butterflies, moon and stars, windows and curtains, night walks, gifts and killer lines filled my brain that it's now complaining "System overload!" I can hear the sirens ringing. Oh my Gulay! I think I'm having SAPS "Severe Acute Perkins Syndrome" -

a viral mental and emotional disorder caused by excessive mixed emotions from reading Stephanie Perkins books.
We'll, just to make it short.
I AM TOTALLY IN LOVE WITH THIS.
Not that I'm forgetting St. Clair now because of Cricket but it's just that Cricket presented an appealing, cute and amazing nerd. He's this innocent boy who never got over with his first love (oh!! the cherries). I don't know how Perkins does it with her characters but her boys are really charming and lovable. It takes a lot of talent to do that.
Lola represents a strong and confident girl. Everything about her says "I may not look the same every day but that's just me. I'm rockin'" Well, there were those times that are really frustrating when it totally looks like she's leading Cricket unto something even when she is still with Max, the rockstar boyfriend. But we can't blame her, she's just confused with her relationship with Max and her feelings with Cricket. It should have been easier if she just admitted her feelings to herself than denying them over and over again. Denying it just makes the feeling grow stronger.
It is obvious that the Max-Lola tandem will never last. Max is just to MAXXX for Lola. Besides, even if he is this "they-say-awesome" rockstar, he is still a jerk. Aheermm.. Now that I think about it, Perkins must have something against rockstars. It's just my observation. Why? Well, there's the unforgettable Toph that Anna used to like in Anna and the French Kiss and now there's another band icon in the persona of Max in Lola and the Boy Next Door. What do they have in common? Max and Toph? They're both the TOPh and MAXimum jerks. Now, I wonder if there will be another rockstar icon in Isla and the Happily Ever After. I just hope not.
Anyway, I have to congratulate Stephanie Perkins for this another amazing piece. Everything in the book is connected. I just love how she connect the dots.
My favorite scene is this window scene one night after Lola broke up with Max in Chapter 27. N
ow that I think of it, there were lots of window scene that this should be titled "Lola and the Boy Next Window". Anyways, that night, th

ey were talking about things being easy in order to work, circumstances and second chances and the last lines of that chapter just... just blew me away.
"So do you believe in second chances?" I bite my lip.
"Second, third, fourth. Whatever it takes. However long it takes. If the person is right," he adds.
"If the person is... Lola?"
This time, he holds my gaze. "Only if the other person is Cricket."
Also... that text that says "Crickets chirping and bells rings". That's a really smart, adorable and hilarious. Ha-ha.
My favorite line is this...
"I know you aren't perfect. But it's a person's imperfections that make them perfect for someone else."
--It perfectly makes sense.
View all my reviews
Sparkling 4 stars for Lola and Cricket.
#TEAM CriOla