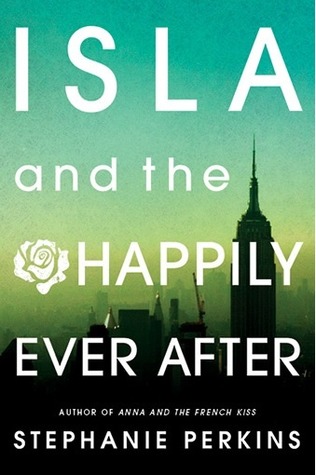 Isla and the Happily Ever After by Stephanie Perkins
Format: Ebook
Publisher: Dutton
Genres: Young Adult, Romance
Average Goodreads Rating: 4.19
My rating: 5 of 5 stars
BLURB
Love ignites in the City That Never Sleeps, but can it last?

Hopeless romantic Isla has had a crush on introspective cartoonist Josh since their first year at the School of America in Paris. And after a chance encounter in Manhattan over the summer, romance might be closer than Isla imagined. But as they begin their senior year back in France, Isla and Josh are forced to confront the challenges every young couple must face, including family drama, uncertainty about their college futures, and the very real possibility of being apart.

Featuring cameos from fan-favorites Anna, Étienne, Lola, and Cricket, this sweet and sexy story of true love—set against the stunning backdrops of New York City, Paris, and Barcelona—is a swoonworthy conclusion to Stephanie Perkins's beloved series.
~From Goodreads~
MY THOUGHTS
Isla and the Happily ever after is just the perfect finale for Perkins' trilogy. It was a great year ending reading experience for me since I finished it some minutes before 2014 ended. Even with 566 pages, you'll never get bored in each page. It's definitely a light, feel-good, page turned book that will make you smile from page 1 until the very end.
I always imagine Josh (with reference to Anna and the French Kiss) as a clown because of his goofy moments with Etienne but here, it was like he's a different person. I see the different side of him. Behind those playful character is just a boy looking for a normal life with his parents. He is the story of every person with family needs and strong determination to achieve his dreams. I like how Perkins has pulled it off.
It was also the same with Isla. There was only one quick moment of Isla in Anna and the French Kiss but it immediately registered in my head that this girl is shy, aloof and just a girl who is head over heels in love with Josh. The typical picture of some girls but it also showed the different side of her. The fun side, the negative sides like misunderstanding circumstances. I have to say that I was kind of frustrated when she dumped Josh. She was totally overreacting. I understand her point but I think it was not fair for Josh side of the story. (Hooh.. getting carried away there)
Anyway, I'm still glad it happened that way because the next things that happened just totally blew me up. The whole gang was there, Lola and Cricket and Anna and my favorite Etienne who never fails to make me laugh out loud. The Kilometer Zero affair was just totally amazing. The song "BEST DAY OF MY LIFE" was literally playing in my head while reading the reunion part and the proposal.
But of course, Josh and Isla's moment in the end was also extraordinary. I was like kicking all the pillows in my bed saying "CALL HIM ALREADY" while Isla read the revised biography. Ha-ha. That was such an amazing moment.
Indeed, this was an amazing read for my vacation. Just relaxing, light, feel good, swoony and fun read.
5 stars for Stephanie Perkins
View all my reviews