Like I said on my previous post, I'm definitely posting my Rainbow Rowell holiday experience. Yes, that means Fangirl and Eleanor and Park.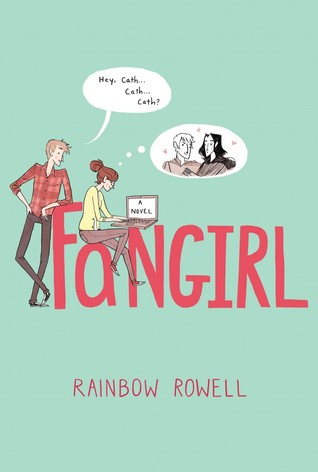 Fangirl by Rainbow Rowell
My rating: 5 of 5 stars
Format: Ebook
Pages: 411 pages
Pacing: Fast pace
Genre: YA, Teen, Contemporary, Realistic Fiction
Average Goodreads Rating: 4.20 stars
BLURB:
A coming-of-age tale of fan fiction, family and first love.
Cath is a Simon Snow fan.
Okay, the whole world is a Simon Snow fan...
But for Cath, being a fan is her life—and she's really good at it. She and her twin sister, Wren, ensconced themselves in the Simon Snow series when they were just kids; it's what got them through their mother leaving.
Reading. Rereading. Hanging out in Simon Snow forums, writing Simon Snow fan fiction, dressing up like the characters for every movie premiere.
Cath's sister has mostly grown away from fandom, but Cath can't let go. She doesn't want to.
Now that they're going to college, Wren has told Cath she doesn't want to be roommates. Cath is on her own, completely outside of her comfort zone. She's got a surly roommate with a charming, always-around boyfriend, a fiction-writing professor who thinks fan fiction is the end of the civilized world, a handsome classmate who only wants to talk about words... And she can't stop worrying about her dad, who's loving and fragile and has never really been alone.
For Cath, the question is: Can she do this?
Can she make it without Wren holding her hand? Is she ready to start living her own life? Writing her own stories?
And does she even want to move on if it means leaving Simon Snow behind? -From Goodreads
MY THOUGHTS
I read it last weekend before New Year and I can't help but totally connect with Cath. Maybe it's because I have this desire to become a fantasy writer as well (check out Giants and Elves in Authspot..he-he). Anyway, back to Fangirl. It's a 411 page fast pace story of Cather Avery and her adjustment to college. Obviously, just from reading the blurb, Cath has problem with change and coming-out-of-her-shell stuff. And that something that connects with readers who is in the same page(especially teenagers moving). I think everyone has a Cather Avery side in them. Introvert but willing to open up. Silent but has a fun side as well (Emergency-Kanye-West Dance Party). Anyway, I love how Rowell shaped her characters, steady and easy to identify. The kind that she doesn't have to write "Cath said" or "Levi said" or "Wren said" all the time in every dialogue. Everyone has their own trademarks.
And the romance, oh the romance! Levi, Levi, Levi… the sweet Levi. All the humor and epic fail attempts on hitting on Cath. Ha-ha!
Oooppss… commercial break! Use LEVI in a sentence. Use it. (drum roll please)
I LEVI YOU!!!
Okay before I crack another Levi jokes. Let's proceed with the romance. The romance is awesome. It's not OA or cliché. The development is good and not that overly dramatic. It's the normal kind of drama. Just the right mixture to swoon over them. He-he.
I can't even think of anything negative about it even if I was a bit looking for more in the ending. I like that she was able to finally cope with everything in the end especially with Cath's Fiction-Writing class and she and Wren are finally catching up. And of course, I love that she and Levi are going smoothly. Besides, it's not just all about romance, it's the story of every young girl, adjusting to change, coping with family troubles and relationships and that something everyone can get a lesson from.
MY FAVORITE QUOTE: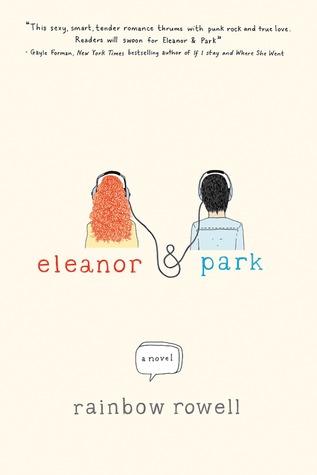 Eleanor and Park
by Rainbow Rowell
My rating: 5 of 5 stars
Format: Ebook
Pages: 449 pages
Pacing: Fast pace
Genre: YA, Teen, Contemporary, Realistic Fiction, Romance
Average Goodreads Rating: 4.18 stars
BLURB:
Eleanor
... Red hair, wrong clothes. Standing behind him until he turns his head. Lying beside him until he wakes up. Making everyone else seem drabber and flatter and never good enough...Eleanor.
Park
... He knows she'll love a song before he plays it for her. He laughs at her jokes before she ever gets to the punch line. There's a place on his chest, just below his throat, that makes her want to keep promises...Park.
Set over the course of one school year, this is the story of two star-crossed sixteen-year-olds—smart enough to know that first love almost never lasts, but brave and desperate enough to try. - From Goodreads
Unlike Fangirl, Eleanor and Park is an intense one. A complete page-turner. Every page, you ask yourself, "what happens next?". It's a 449 page story. Looking at the number of page was making me nervous. That long? Will I ever finish it before new year in between overloaded snacks? Well, I did. Like Attachments and Fangirl, Eleanor and Park is fast pace and that 449 pages is worth the read. Every page of it is worth it.

In the beginning, the silent bus rides and sneaky stares kind of irritated me and I just felt like dragging Park out of the book and shake him in the shoulder.
GOSH! Just talk to her already!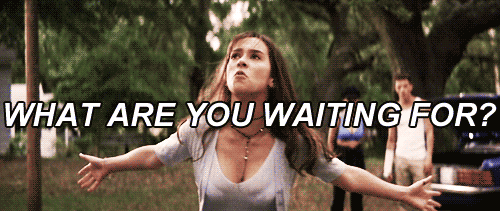 And it's funny because when they did? I kind of looked for the silence. Ha-ha!

Obviously, Eleanor and Park's life are completely opposite. Park has everything, a complete family, like everything. And on the other hand, Eleanor barely survives. She's weird and people make fun of her, she has a crazy stepdad and a ridiculously submissive mom who can't protect her children(seriously, not that I'm judging her but if she loves her children, she should've left that bigheaded "husband" the first time he called her children names). I hated that part, I mean Eleanor's broken family. A father who only contacted her to babysit his stepson? Gahh! I can't help but feel sorry for her. All that awful and absurd things written in her textbooks, everything was just too much. How could someone just do it to a young girl? Okay! I'm being carried away right now. Gosh! Rowell! I blame you for this! Ha-ha! You never fail to make me feel this way. It's so dramatic. Very dramatic in fact but it's not the kind of drama that will make you roll your eyes and throw away the book(or in my case, my phone because I'm reading ebook) because obviously, I finished it and I'm still having my hangover here.

The romance, oh the romance! It was like watching a fetus growing. Slow but sure. From silent bus rides to comic book talks, then the song talks, then holding hands, then phone calls, then home visits, to sneaky kisses, sneaking out in the middle of the night and then to making out in bedrooms, Judy Blume references(Ha-ha), to running away and goodbyes, letters, postcards and three long words. Yes, it was slow and sure and at the same time dangerous. Every moment they are together outside school was intense. It was like any moment, Eleanor's stepdad will just pop out of nowhere and start ruining everything.

Eleanor was a picture of every scared girl who is brave enough to risk anything for the sake of love. When she gave in her feelings to Park(except for the 3 words) I was totally proud of her. On the other hand, Park, oh Park! I can just picture a little teen Daniel Henney, mysterious, nerd, rockstar and martial arts hero. I like that Rowell created a character like him. His character is exactly the one that suits perfectly with Eleanor. A hero for Eleanor(Oh Eleanor! The name just sounds like an queen who needs saving!)

Overall, I am giving Rainbow Rowell 5 star. She just deserves it. Her plots are unique and genius. Honestly, I'm running out of adjectives to describe how awesome she is. I hope this year, she visits Philippines. I'll cancel everything just to line up for her book signing.
MY FAVORITE QUOTE:
View all my reviews